This guide was written for SWIFT-v2.07, most of the things here dont apply to the latest version. You can find the guide for the latest version
here

Installing SWIFT is not different from installing any other WordPress theme. SWIFT looks great with the default options but spending a few minutes on the options page will give you a unique look to make your blog stand out from crowd. SWIFT is actually a infinite number of themes packed in to one 🙂 .
Here is an example of how you can make your SWIFT unique without any template edits
Installing SWIFT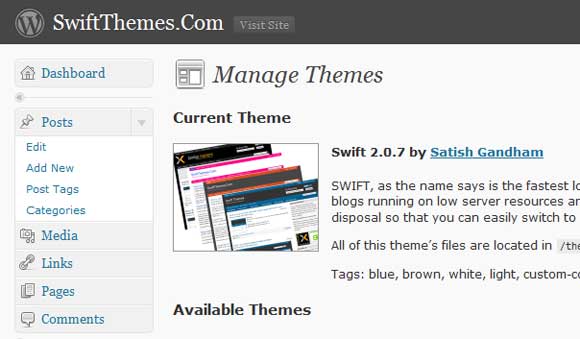 Download your copy of SWIFT theme, and unzip the file you have downloaded.
Upload the entire folder on to your server wp-content/themes. The template files should thus be here now: /wp-content/themes/swift-vX.X.X/.
You can also upload your zipped file via CPanel and extract it.
Log into your WP admin panel and click on the Appearance tab –> themes. Now click on the SWIFT theme to activate it (see the first screenshot below).
Change the permissions of swift/cache folder to 777 and swift/custom-styles.css to 666.
Your blog is now powered by the fastest SEO friendly, cross browser compliant, Adsense optimized, server friendly theme.
Note:If you are using WordPress 2.7 or higher, you install the theme directly from the admin dashboard.