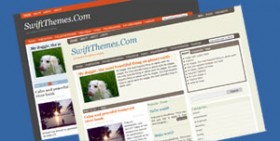 Swift v3.1.1 is out with more features, 2 new colour schemes and some bug fixes. If you have come up with some beautiful colur scheme or a good customization which you would like to share with the other users of SWIFT, send in your blog details using the contact form. Your blog will be added to the showcase section which I will be adding very soon.
http://swiftthemes.com/contact-me/
Here are the list of changes to version 3.1.1
Add two new colour schemes.
Removed the unnecessary brace that crept into style.php in 3.0.5.
Added option to pick the popular post title and background colour for author comment.
Added option to add images through custom fields, check the following url for info on using custom fields http://swiftthemes.com/2009/09/wordpress-themes/a-complete-guide-to-installing-and-customizing-swift/
Added default favicon.
Increased the font size of sidebar title.
Changed content slider sliding style.
Fixed the featured posts bug.
Updated the styles.
Comment luv wasnt detecting the rss feed, fixed this problem.
Thanks to
Navjotj Singh and alaJoAnn for pointing out the featured post slider bug.
Saurabh for pointing out feed detection bug and
Cornfedgamer for pointing the bug in custom colour selector. He did some cool customizations to his blog, do check his blog.