Today we are very proud to announce the release a major update to Swift. This update is going to make building business sites a super easy, fast and fun task. Not just that, maintaining and updating it is also going to be very easy.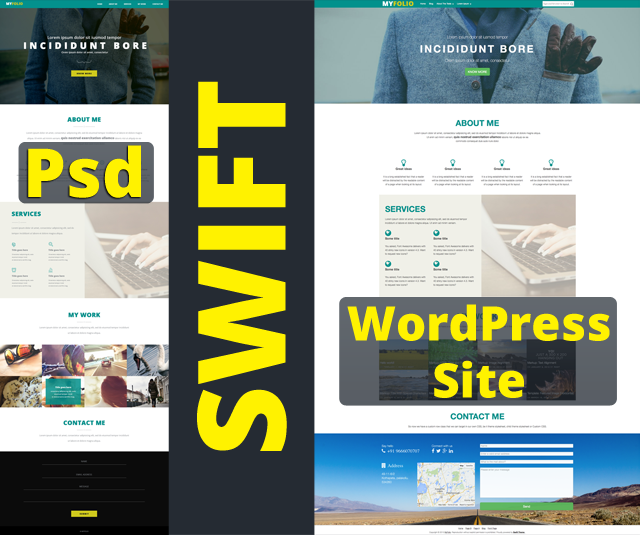 We got this idea in October. After finalising what and how we are going to do it, we did some searching to see if anything like this was done before. We came across the Page Builder plugin. It was great, it was a quality work with attention to detail and without any unnecessary bloatware. If this did not exist and we started building our own, our aim would be to get an end product very similar to this. It wouldn't have been an easy task with our limited javascript skills.
At that time, there was a major update to the plugin in the pipeline so we decided to hold on until a beta of the plugin was ready.
Once the plugin was available, we tried to convert some PSD's to WordPress sites using PageBuilder and Swift. This gave us some good insights on what you as a developer will need to build business sites. With this knowledge, we added everything you will need to build responsive business sites.
Here are few pages built with page builder and Swift
New additions to help you build business sites.
Window width slider.
CSS helper classes.
5 new caption styles for the slider.
Smart posts widget.
Optimizing the page builder plugin by removing unnecessary scripts, CSS and fonts.
Option to set device specific CSS on per page/post basis.
Not just building business sites, this version is a major update by itself
Ajax Save on theme settings
With the number of options, theme settings page were getting heavy and you can see its affect on the amount of time it takes to customise your site, special if you are on a slow internet connection. This became more important as we introduced built in background picker few versions back.
To address this issue, we added ajax these pages to speedup customisation process.
Smart posts widgets
Smart posts widgets not only help you in building business sites. You can also use them to build stunning magazine style blogs or new sites.
WooCommerce Support
Though Swift supported WooCommerce since long, it wasn't perfect, it was a hit and miss. For this version we built couple of WooCommerce sites ourselves to iron out any issues we can find and in the proccess expanded the smart posts widgets to show WooCommerce products as well. You can it in action in the sidebar of our new demo site
There are still a lot more changes and improvements under the hood, all to make the theme more stable, fast and efficient.
We setup a new demo site, it's still a work in progress.
[button link="http://demos.swiftthemes.com/" size="xl" color="success" class="fa-eye"]View Demo[/button] [button link="http://demos.swiftthemes.com/swift-folio" size="xl" color="primary" class="fa-eye"]Business Site Demo[/button]
[button link=http://swiftthemes.com/plans-and-pricing/" size="xl" color="success" class="block full fa-download"]Get Swift Premium Now[/button]
If you are already purchased Swift, you can download this version from the members area.