SWIFT, as the name says is the fastest loading, SEO optimized server friendly WordPress theme.
This theme is mainly aimed at blogs running on low server resources and for those who like clean and simple designs. It's always good have themes like SWIFT at your disposal so that you can easily switch to it if you are expecting a spike in traffic from social media sites.
Here are some of the best features of SWIFT which makes it stand out from crowd.
Loads very fast, minimum number of http requests. Your server will love it
Zero images used.
Clean typography.
SEO friendly, For example,this theme uses h1 tag for post titles, instead of the blog title.
Cross browser compatible (Works well on ie6 too , except for the curves )
Swift is smart enough to pull out the first image from your post and use it as thumbnail on home page (It even pulls out images that are not part of wordpress gallery).
Featured post slider.(Included in v3.0)
Tabbed interface.(Included in v3.0)
I have bundled lot of features in to the options page to make your SWIFT THEME unique
Popular posts are highlighted on the home page to give them more exposure, this will turn the first time visitors to your blog into regular readers.
Sidebar and footer with four widgetised sections (8 in total) .
Adsense integrated into killer locations 🙂 .
RSS subscribe box in the best possible position to increase your subscribers.
Eight different color schemes to choose from(Will Be added very soon, working on them).
Ads integrated into theme options page.
Option to add thumbnails to home page
Easy colour picker to customize your copy of SWIFT (That makes it infinite colours to choose from 🙂 )
I would like to have your valuable suggestions before I release the next version.Please drop in your suggestions here.
Upcoming Features
Better featured post section with slider.(Included in v3.0)

Integration with pagenavigation and related posts plugin.

(Included in v3.0)
Adding some images using CSS sprites.

Fancy RSS subscribe box.

(Added in v2.0.0)
Drop down navigation.
rounded corners in all browsers

Threaded comments and better comments template

. (Included in v3.0)
***** SWIFT Change log *****

04.10.09 – Version 3.1.1
*Removed the unnecessary brace that crept into style.php in 3.0.5.
*Fixed the feed detection bug.
*Added option to pick the popular post title and background colour for author comment.
*Added option to add images through custom fields, check the following url for info on using custom fields
http://swiftthemes.com/2009/09/wordpress-themes/a-complete-guide-to-installing-and-customizing-swift/
*Added default favicon.
*Increased the font size of sidebar title.
*Changed content slider sliding style.
*Fixed the featured posts bug
*Updated the styles
*Comment luv wasnt detecting the rss feed, fixed this problem.
02.10.09 – Version 3.0.5
Forgot to save the changelog in v3.0.4 😛
02.10.09 – Version 3.0.4
*Removed the padding and margin for smileys.
*Added margins to headings.
*Added padding to tags widget.
*Changed blockquote styling.

30.09.09 – Version 3.0.2

*Fixed the sidebar problem in ie6

30.09.09 – Version 3.0.0

*Added featured post slider and tabbed interface.

*Stylish options page.

*More colour options.

*New comment styling.

*Option to disable rounded corners in sidebar.

*Changed the font style of blog title and post title.

*All the paddings and margins are corrected.

*Default HTML elements are styled to match the theme.

02.09.09 – Version 2.1.3

* No serious updates except for few minor changes to meet wordpress theme directory requirements.

31.08.09 – Version 2.1.0

* Fixed the rss feed bug.

30.08.09 – Version 2.0.9

* Jquery file required for options page was deleted by mistake in v.2.08

* Reorganized the options page.

30.08.09 – Version 2.0.8

* Added rounded corner support to safari.

* Fixed all the CSS and HTML errors

29.08.09 – Version 2.0.7

* Fixed the bug in navigation area

* Added some default widgets.

* Some SEO tweaks

28.08.09 – Version 2.0.6

* Made the height of navigation area above and below logo fluid now you can have as many pages and categories as you want.

27.08.09 – Version 2.0.5

* Fixed the 125*125 banner ads bug

27.08.09 – Version 2.0.4

* Options page is more user friendly now.

* Added gravtar next to post title and gave it a whole new styling. You will love it.

* Separate comments and trackback.

* Added an option to add Adsense ad under the navigation area. I have been using Adsense for more than three years, trust me when I say that this position has highest CTR and could double your Adsense revenue when used with proper colour combinations.

* Fixed the email subscription link.

* Fixed some bugs in comments template.

26.08.09 – Version 2.0.3

Changed the post title style

Fixed some bugs with rss

made the search box little wider to accomodate the default text

23.08.09 – Version 2.0.2

Added threaded comments

23.08.09 – Version 2.0.1

*Fixed the links to feeds in footer

23.08.09 – Version 2.0.0

*Changed the layout from 16 grid system to 12 grid system (Swift uses 960.gs css framework)

*Added RSS subscribe box and changed the search box position

20.08.09 – Version 1.0.6

*Fixed some php tags

*Added colour picker to options page and made it more user friendly

19.08.09 – Version 1.0.5

* Added the option to disable popular posts on homepage, disabled by default.

* If no post is specified for the featured section, most recent post is taken as default.

*Fixed the issues with Internet explorer, that crept into version 1.0.4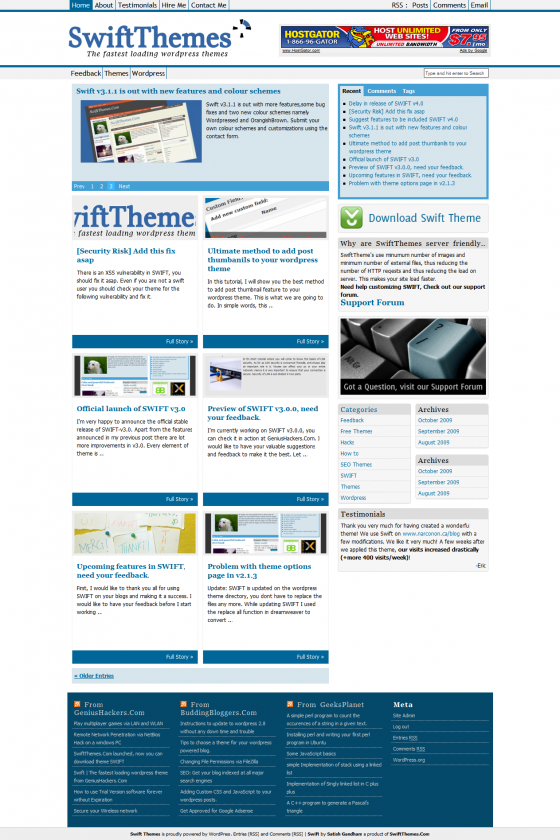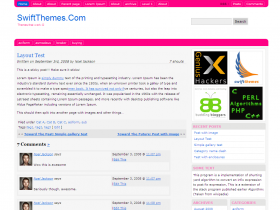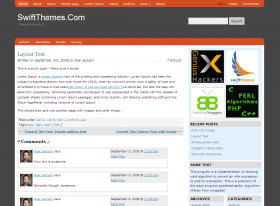 TOTAL_HTML –
Congratulations
, the total number of HTML files on this page (including the main HTML file) is 1 which most browsers can multithread. Minimizing HTTP requests is key for web site optimization. Y
TOTAL_OBJECTS

–

Congratulations

, the total objects on this page (including the HTML) is 9 which most browsers can multithread in a reasonable amount of time. Minimizing HTTP requests is key to minimizing object overhead (see Figure II-3: Relative distribution of latency components showing that object overhead dominates web page latency in Website Optimization Secrets for more details on how object overhead dominates web page latency.
TOTAL_IMAGES

–

Congratulations

, the total number of images on this page is 3 . Most browsers can send multiple requests, which can speed display of multiple images.
TOTAL_CSS

–

Congratulations

, the total number of external CSS files on this page is 1 . Because external CSS files must be in the HEAD of your HTML document, they must load first before any BODY content displays. Although they are cached, CSS files slow down the initial display of your page. Remember to place CSS files in the HEAD and JavaScript files at the end of the BODY to enable progressive display.
TOTAL_SIZE

–

Caution.

The total size of this page is 112708 bytes, which will load in over 20 seconds on a 56Kbps modem – or 24.26 seconds on a 56Kbps modem. Consider reducing total page size to less than 100K to achieve sub 20 second response times on 56K connections. Be sure to provide feedback for pages over 100K by layering your design to display useful content within the first two seconds. Consider optimizing your site with Website Optimization Secrets, Speed Up Your Site or contacting us about our optimization services.