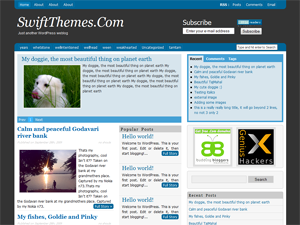 I'm very happy to announce the official stable release of SWIFT-v3.0.
Apart from the features announced in my previous post there are lot more improvements in v3.0.
Every element of theme is dealt with special care, to provide you with a free premium quality theme.
Here are a few improvements in v3.0
SWIFT is now smart enough to check if there are any images used in the post and use it as thumbnail. It even detects images that are not stored on your server, this feature is unique to SWIFT and not found even in most premium themes.
Redesigned the options page to make it easier to use.
Care was taken to make sure you don't hit the reset options button by mistake and loose all your settings.
Changed the font style of the blog name.
Special attention to margins and padding so that your blog doesn't look crowded.
Option to disable rounded corners in side bar.
Changed the post title styling.
All the html elements are styled to match the theme.
You can download the lastest version from the official theme directory
I feel that there is lot of scope in improving the front end of SWIFT, if you have any suggestion to improve the design please drop in.
Did swift save you the cost of a premium theme?? How about a donation?