Get Swift Now!
Been working like crazy for the past few weeks to bring a whole lot of new features to Swift and make it even more easy to use and today I feel proud to bring in front of you the new Swift v6.2.0.It is going to make designing your site a fun job and you may even have a chance to make money selling your color schemes in future. Started working on the idea of setting up a color and font store for Swift, and should be up very soon :). We will discuss the future of Swift in detail later, lets first check what the new Swift has to offer and why is it SOO special.
Use the code SAYURI while purchasing Swift and get 20% OFF. Hurry, offer valid on limited number of copies.
Color Schemes page
The major addition to this version of Swift is the color schemes page. You may think many themes already come with predefined color schemes, so whats the dig deal. The way Swift implements these color schemes makes it special and easy to use.
Usually the color schemes included with the themes are CSS files overriding the base color scheme. You have to know some CSS and involves code editing to customize the color scheme further to your linking. It makes it very hard for people with little knowledge of CSS and sometimes even for people with decent knowledge of CSS and HTML5. In Swift, when you select any color scheme, colors of various elements from the selected color scheme are loaded into Swift color options page. Thus giving you the ability to fine tune the color scheme to your liking, to match your company colors without any need for template edits.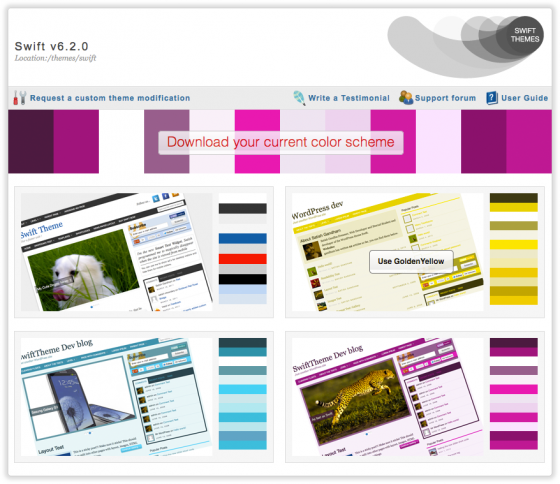 1. Color shown below the menu are the colors used in your current color scheme. You can use this to merge the colors that are very close. When you use too many similar colors it will have a jarring effect on the readers. This little tool will help you solve that problem, and guide you through the customization process.
2. Color column shown next to each screenshot is generated automatically including every color used in the theme.  This will give you a overview of the color scheme.
Get Swift Now!
Distraction free color options
Though the ability to customize every element of the page is a good thing, when you have lot of colors to select it can be a time taking process and sometimes very confusing. To address this problem, we made a major change to the color options page. All the color options are hidden behind small and cute labels, you can pick the section whose colors you want to change and edit them without getting distracted from other sections or editing one section instead of the other.
Other improvements,changes and bug fixes in this version are
After you save the theme options, you won't be taken to the default first tab. You will stay on the tab you were editing.
Made some changes to default colors and fonts to improve the look of the theme.
Updated many translatable string and made more string translatable based on the suggestion from Alexander Gieg, who is working on Brazilian translation of Swift. Many thanks Alex, you are awesome 🙂
Fixed a bug with the responsive layout. #
Changed the top margin of flex slider from 20 to 10px.
Fixed a bug with text alignment #
The future of Swift
I'm working on three things at the moment
Developing marketing material for Swift affiliates so that you promote the theme you love easily.
A market place where you can sell/buy Swift color schemes and font sets.
Enhancements to responsive layout like.

Adding option to disable some of the widgets when the site is viewed on mobile.
Show different umber of posts on home page for desktop and mobile visitors.
Option to stop loading comments on mobile devices.

These changes are a result of the question raised by Ashish Mohta on our Facebook page. Thank you Ashish.
Use the code SAYURI while purchasing Swift and get 20% OFF. Hurry, offer valid on limited number of copies.
Last three weeks have been very hectic, will take break for 2-3 days and will be back with a tutorial and tips on developing color schemes.