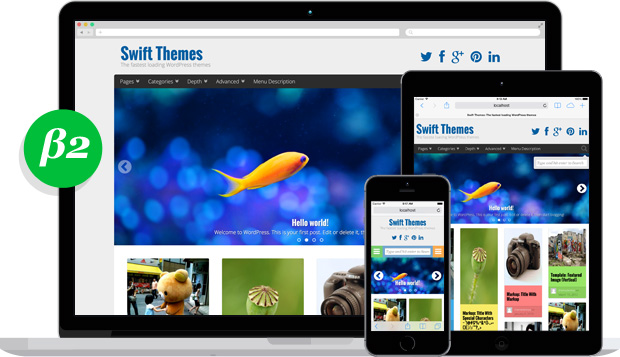 The all new Swift v7
With everything you need to build a ultra modern responsive website
We today with a great pride announce the launch of Swift v7 beta. Swift went through lot of changes to keep up with the modern trends, Increase in Screen sizes and the number of mobile users.
It's a beast, a beautiful one
You will love using it, your website visitors will love you and thank you for using such a beautiful and reader friendly theme.
One of the major complaint with Swift was the default typography, many of you found it boring. We are addressing this issue in a manner you have never seen in any theme before.
The major changes to Swift are …
#1 Font Stacks
You can now with one click change the typography of your blog. You have option to choose from 5 different typography presets. More will be added in time.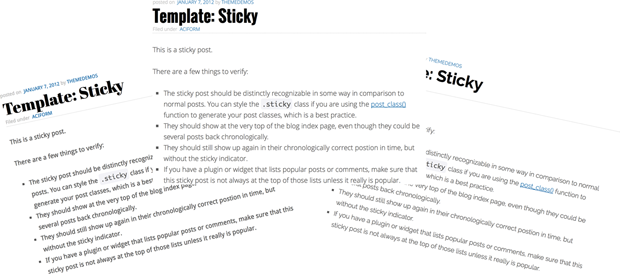 #2 Custom Slider
You can now replace the posts slider with a custom slider. Show case your products, services or even add an option form.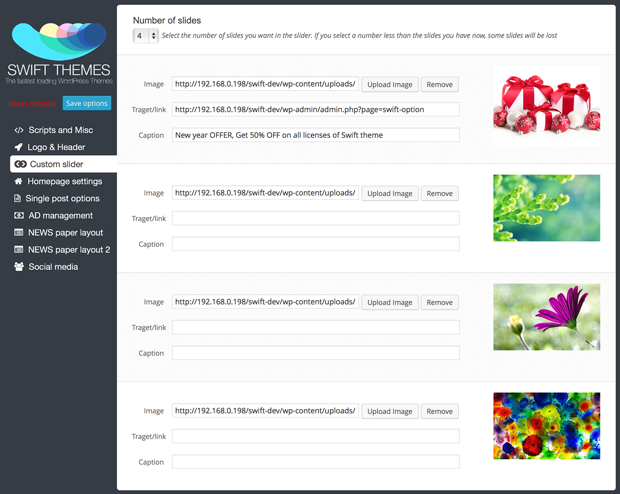 #3 Responsive Design
Though the responsive design we have in v6 is better than any other them out there, it wasn't upto our standards. So we re did the whole responsive part to bring you aleaner and meaner responsive layout. Responsive ads let you show different ads for users on desktops+tablets and mobiles. Swift will also serve appropriately sized images ( Responsive Images ) for mobiles and tablets so they don't appear scaled or pixelated.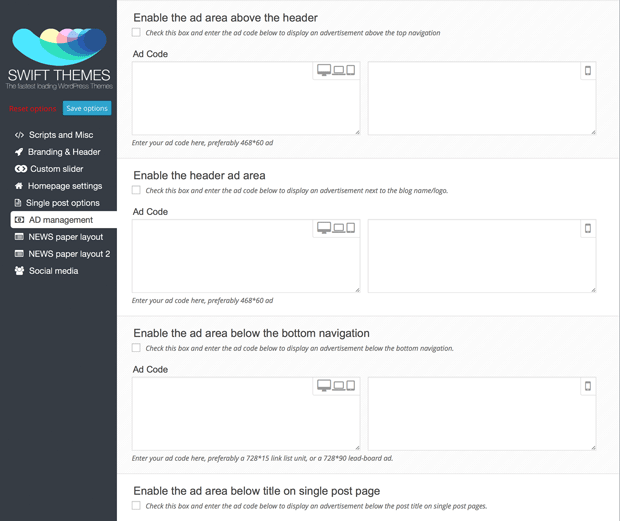 #4 Airy Layout
This is my(Satish Gandham) favorite. I always loved designs with lot of white space, I enjoyed reading content on them. Swift was limited by the grid we were using, so could not have lot of white space. But not anymore, this time I tweaked the grid to let you choose as much white space as you want 🙂 This combined with font stacks will give you the most beautiful and readable design ever. Your competition will envy you 🙂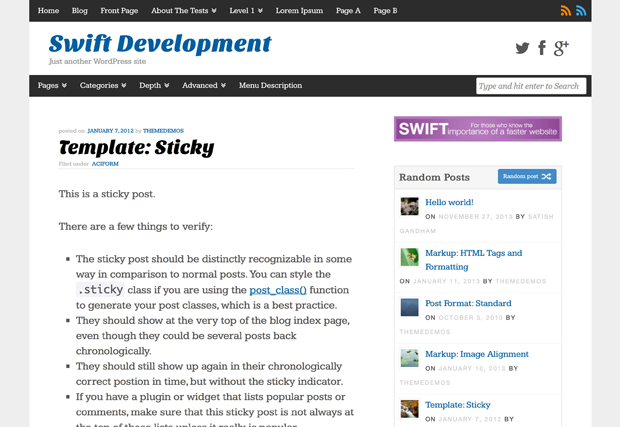 #5 Color Palettes
We are introducing color palettes in this version. You can now assign colour schemes to categories when using magazine layout and help your readers easily identify the categories they are interested in. Again the first of its kind in any WordPress theme.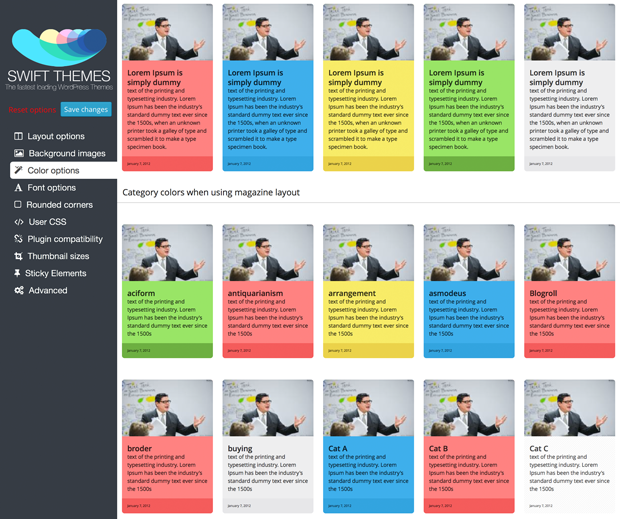 Other changes and improvements to Swift are..
We replaced the current color picker with Spectrum, which allows you to choosetransparent backgrounds.
Option to add social media icons in header.
New ads widget to show page/post specific ads.
We are going flat with buttons and other 3d things in the theme.
Replacing all icons with fontawesome.
Added icons to comments form.
New options page design ( Will make it responsive in coming days).
Some deletions..
In the final stable release we will get rid of some features which no longer make sense.
Social buttons in shortcodes.
The two new paper layouts we have now. They will be replaced by new layouts that are responsive in the coming weeks.
In coming weeks
v7 development is not complete yet, still there are lot of things that will be added. Here is a short list of whats to come
Corporate mode, that removes any references to comments, rss and anything that might make it look like a blog.
Retina support.
New navigation style, like the one we have on http://SwiftThemes.Com
Sticky post nav.
Responsive magazine layout.
It's fresh out of development, haven't optimized it aggressively. Will work on it.
If you come this far you definitely love Swift, thank you 🙂
We are redesigning SwiftThemes.Com, we will make it live along with the launch of the stable version of v7.
A testimonial with your picture will make the design look awesome :), please submit one here.
Feedback?
We developed this version with lot of care, thought and passion and we are proud of the outcome.
We would love to hear what you think and any suggestions on how we can make it even better.