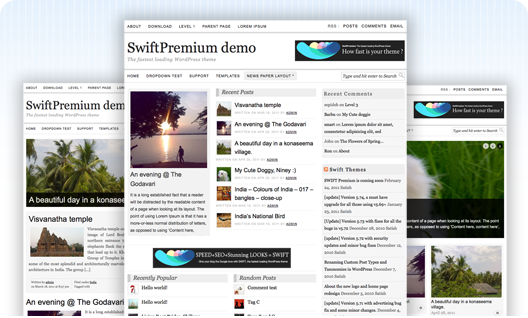 Big News! SwiftPremium version 0.5 is now translation ready. You no longer have to edit the files to translate the theme. Pot file is located in SwiftPremium/lang folder.
Whats new in SwiftPremium v 0.5
SwiftPremium was reviewed by Mani Karthik, a SEO expert from India. I updated few sections of the code based on his feedback and suggestions. v 0.5 is more search engine friendly than the earlier versions. The major change is perfect distribution of header tags.
Added sitemap template, so that you can easily create a sitemap for your blog without the need of an extra plugin.
Changed the comment submit button styling a little.
There were few problems with the font options, fixed those.
Removed the comments closed text from the pages.
Social media icons were out of place in v0.3, fixed it.
Added nofollow tag to the link to SwiftThemes.Com in footer to, perhaps the only theme to do so.
For those who didn't subscribe to the news letter and missed the news about SwiftPremium …
SwiftPremium was launched on April 6th to the forum users and news letter subscribers @ 40$. It was launched on the blog on 29th April and the price was then updated to 47$ for a personal license and 87$ for a developers license.You can find the pricing details here . Some of the awesome features of SwiftPremium are listed here, check it to find out why you should buy SwiftPremium.
Winners of the guess the price contest were announced in the first news letter. If you haven't claimed your copy yet, contact me through this page for your free copy.
Azam (aff*@nowswe**.com)
Schofield (ste****o@***world.com)
Butch Bernstein (offers@imb*******.com)
Louis Bledsoe ( **les@***mpg.com )
Eddie Gear (editor@******times.com)
Gordon Snyder (gs@water*****.com)
Tor Inge ( kro****@gmail.com)
Yoky Liadinata ( yoky*********@*****.com )
Tony Cecala ( tony******@*****.com )
[button link="http://swiftthemes.com/swiftpremium-features/" style="info" size="small" class="alignleft"]SwiftPremium Features[/button] [button link="http://swiftthemes.com/plans-and-pricing/" style="tick" size="small" color="#3BB701″ class="alignleft"]Plans & Pricing[/button] [button link="http://demos.swiftthemes.com/" style="info" size="small" class="alignleft"]Demo[/button]
Use this code for 20% discount on both personal and developer licenses of SwiftPremium, valid for the first 10 sales.
1DCAF
Thank you for your support.