After a lot of wait and hard work, today we are proudly announce the release of Swift-v6.1.0, the one and only true responsive theme in the market today.
What is a true responsive theme
There are many responsive themes in the market, but most of them fail when you add a leadboard ad. In Swift we added an option to enter ad code specific to mobiles, this will be served when the site is viewed on mobile. This version also includes a smart text widget, which magically disappears when viewed on mobile and a flexible slider.

Buy with confidence with our 30 day money back guarantee
Installation and upgrade
If you are a new user or upgrading from Swift Basic, use it like any other WordPress theme. If you are upgrading from versions between 6.0.0 and 6.0.9 follow the instructions here
Improvements in this version are …
[unordered_list style="tick"]
This version is a true responsive theme. Added option to have separate ads for mobile.
Added "Tabs Widget".
Added "Smart Text Widget", which automatically disappears when the site is viewed on mobile.
Replaced nivo slider with flex slider.
Added option to customize slider colors.
Icons for RSS links in navigation above logo.
Option to disable image, forms and table styling to use styling included by plugins. (design options -> plugin compatibility )
Separated font and color options for navigation above and below logo.
Wrapped the logo in <h1> tag for SEO reasons.
[/unordered_list]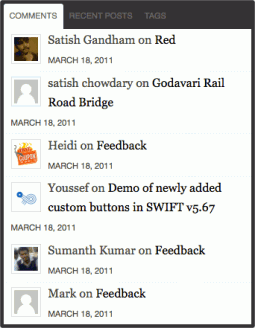 Improvements to our support system
We now have active Facebook and twitter pages. If you have any high priority problem or if I missed your question on the forum, you can now use facebook or twitter to notify me. These two accounts are continuously monitored, you will get quicker response to your questions.
If you are using the free version, and if you have a question that's not already been covered on the forum, you can ask it on our fb page. We will try to answer your questions in our free time.

Buy with confidence with our 30 day money back guarantee
The future …
Swift is now very stable and inline with the latest trends. So we will now take some time of from the regular coding and will be concentrating on improving the inline documentation and preparing some tutorials for hard core developers.
Submit your site to Swift Showcase
If you want to include your site in the showcase below reply to this email or use this contact form.