Dear MyThemeShop,
This is in response to the test results you published on your schema theme page where you have mentioned about Swift theme. We would have truly appreciated if you could have compared the results in a true honest manner. Please do not take it in other way around, We are all more than excited to have our theme speed compared with other theme.
Firstly, we would like to offer our unconditional apologies on the record but at the same time we will show,  why your comparison is based on tissue of lies and why Swift theme is better.
While we are here, we would also bring it to the attention of your customers about how you without any conscience unethically used our name for one of your themes and thus trying to confuse users and eat into our sales and capitalize on a brand we spent sleepless nights building.
We will not be conceding any of the efforts taken  by you to bring swifttheme's sales  in your own pocket because the creative minds behind swifthemes have put lot of handwork filled with dedication to bring to the world a theme that is fast, beautiful, easy and intuitive to use. Your assiduous efforts of confusing the users with your swiftthemes  to ours  is commendable. Hence, we are reluctant in turning a blind eye to this matter anymore. It will be very unfair on our part to supress the tactics used by your comapany to deface our swift theme with skewed reports. Let us bring some of the major things into your kind notice which your company has claimed about swiftthemes.
We think you are quite familiar to us as, at least you have got quite close to our swiftthemes and hence we are redundant for an introduction. Our hard work cannot be ignored at any point as it involves creation, ideas and most important hope to give the world something worth but your unprofessional move towards copying swift themes' name  in terms of everything cannot be guarded. We tolerated and let it go by, when you used our name for one of your themes and tried to poach on our traffic and cash by confusing the users about swift themes  owned by us with one of your themes.
We take great pride in our work  and shall never cripple our chances to be a  frontier in the world of themes and hence will dwindle the chances of  amoral deeds by any company. We are always open and ready to compete with  anyone  and prove our adroitness. So, we would like to invite you in this competition which is flickered only because of your bootleg practices.
A competition can be held only from the ground level. Running a race while the other person is walking doesn't make anyone  a winner. So, our indignation towards your company is well justified.
You probably know what is fallacious with the tests carried by you, I will explain generously so that you are able to attain some valuable information which you have missed on purpose. Here it is,
If you were already eager to get into the race you should have obliged some ground rules and we would get  strong enough to mark your ludicrous assumptions to be faulty. The test site you used wasn't public yet and it wasn't setup  for this occasion.
It's unfair and unjustified towards your customers to compare your stripped down layout with a fully functional and practical design of ours when your theme could be configured to have a look similar to ours.
We hosted our demo on the smallest droplet available on DigitalOcean that costs just 5$ per month. On what server was your demo hosted and how much did it cost you per month? I am sure that its not  less than 20 times the cost of our server.
The demo you used did not have a single image. It's a plain bland boring site which no one would use with its default look. Our demo was design which anyone would use out of the box, had a slider with 4 images of size  1160*716px and 10 thumbnails of size 150*90px. Your site just has a bland design
Even after all these, if you look at the results you posted yourself, our barely optimised site was taking 2.432 seconds per MB, and your optimised site was taking 5.676 seconds. Our ready to use design was 2.33 times faster than your boring design. What if we optimised our demo and compared it with your theme with a similar usable design? Our theme may be 5 times faster.  
Claim .001 second load time, claim 200 page speed score or claim whatever you want,  fool your customers, thats not our prime concern  but  we do  feel sorry for your customers for incurring the loss. Your company was not reluctant in publishing  skewed reports like these and hence to bring out the truth we were compelled to take certain humble steps.
We regret to inform that your competition lacks transparency. We will be glad to know if you are able to spark your own tactics rather than emulating someone else's ideas and garner the attention of the customers. Apart from every unfair advantages taken by selling fake data and reports, we honestly advise you to restrict yourself from such flagitious activities and emerge as a true leader with honesty.
Wishing you luck for your future ventures.
Ending with a sweet thought:
"You can make money without being evil"
Relevant links and data: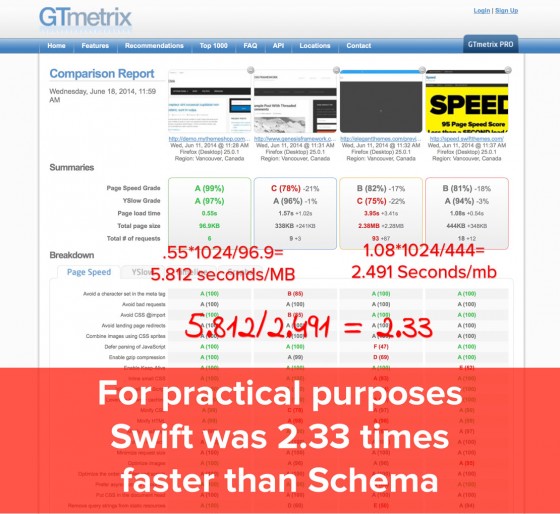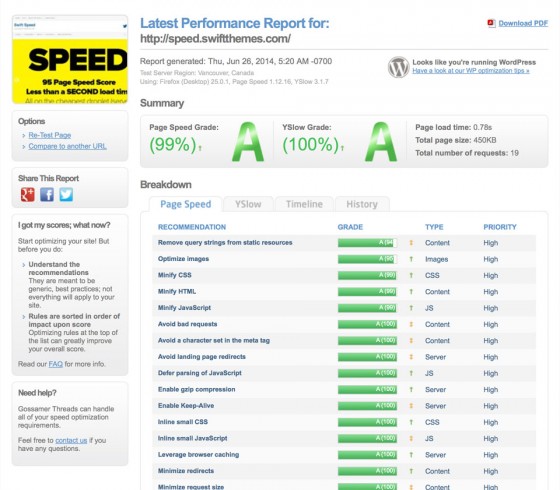 Update: Looks like it's a daily affair to them.