As I told you in my post here, version 5.67 of SWIFT is something that I always wanted as a blogger. It's mission accomplished for me. Now that I have something that I'm proud of, it's time to present it to the world in its best face.
I wanted a logo that represents the objectives of SWIFT, and I wanted it to be designed by a professional. So I went to logo pond and contacted some active designers there. David Pache from Helvetic brands was the first one to respond to my mail, after a small talk he gave me something which he already designed and not using as my budget for the logo was small.
This is the first logo he showed me
Honestly, I dint like it when I first saw it. I was looking for something like the ones below. But slowly the logo designed by David got into my head, every time I see it I like it more than before. It gets into you slowly. Once I decided this is the logo for my site, we played with the colors and tweaked the shape to have the final logo

The new logo of SWIFT represents Speed, Options, ease of customization and scalability.
Speed: Light colours
Options: Various colours
Ease of customization: Smooth curves and the shape.
Scalability: Various sizes of the shape used in the logo represent the ease at which one can use SWIFT to build a very basic minimal blog to a very complex colorful blog.
Home page design
The main idea of the new home page is to give quick idea of what SWIFT is for the new users. Research says that people read a web page diagonally. So I have put the logo and the important information about SWIFT in the diagonal to grab the user attention. The first half of the diagonal we have
It tells the reader what SWIFT is and points them to immediate "Call to ACTION" that is to download. If they are not convinced at this point, they move further down the diagonal, to find the awesome features of SWIFT. Now that I convinced them why SWIFT rocks, there is an immediate call to action below it.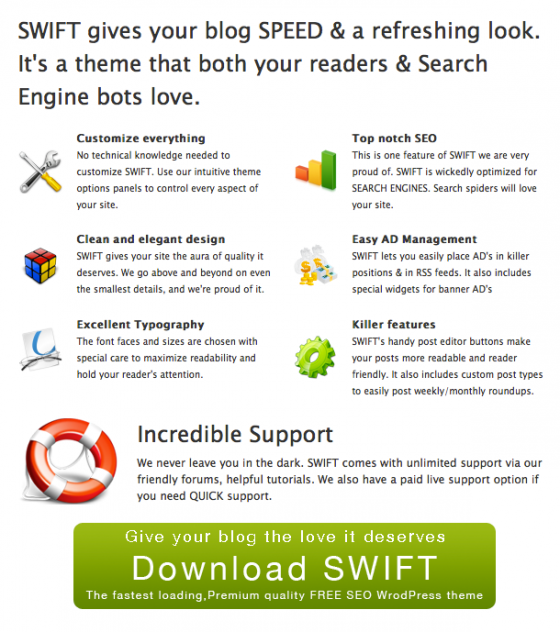 Testimonials and the showcase are there to increase the desire of the reader in the product, SWIFT.
Swiftthemes run pretty smooth on best web hosting server.
PS1: Design of the interior pages is inspired from the design of SmashingMagazine.Com it's still a work in progress, Its gonna get better in the coming days.
PS2:If you want your customization, or review of SWIFT to be included on the home page, drop me a mail through this contact form.
Constructive criticism and feedback appreciated, if you are reading the post in your feed reader, visit the site.