PageSpeed separates features that involve the content creation and features that are not used by all the users into plugins for two reasons.
You don't lose your content/scripts/ads when you move to a different theme. Imagine if a theme included the option to include analytics script and you deactivate the theme after few days. You will have a gap in your analytics data till you remember to add the analytics script back.
You get to selectively use only the features you need, thus reducing the load on your server.
How to install the recommended plugins
After you install the PageSpeed theme, you can see the install plugins option under Appearance in your WordPress dashboard. If you don't see it, it means all the recommended plugins are already installed.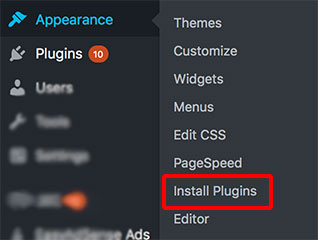 Install this plugin if you are using excerpts on homepage or archives with thumbnails enabled or the single column layout for the single page.
Install this plugin for insertings AdSense and others ads on your website. When you are using this plugin with PageSpeed, you get 5 additional ad locations.
If you would like to show a slider on the home page, use this plugin. When you install No Nonsense slider, homepage slider settings will show up in the customizer.
The myth "More Plugins Hurt Your Site"
You will see many bloggers, SEO consultants and experts claiming more plugins slow down your site, makes it insecure without actually going into the technical details of what and how they hurt or slow down your sites. It's not the number of plugins that hurt your site. Independent features split into their own plugins is any day better than a plugin or theme trying to do everything in a single package.
What will actually slow down your site?
Multiple plugins doing the same thing. You shouldn't have two social media sharing plugins or two slider plugins or multiple caching/optimization plugins.
Poorly coded plugins.
Plugins that you are not using but still active. Remove plugins that you don't need, remove plugins that bring no real value.